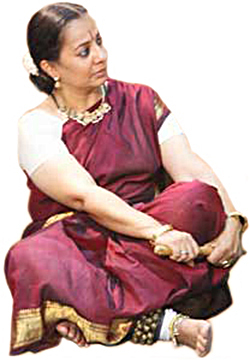 Gayatri Subramanian
Gayatri Subramanian, after securing Gold Medal in BFA, has completed her MFA in Bharatanatyam in second position, with first division marks in the academic year 2010-2011, from Shri Sarfojiraje Bhosale Centre's Bharata College of Fine Arts & Culture, Mumbai, which is affiliated to Kavikulaguru Kalidasa Sanskrit University, Ramtek, Nagpur.
Gayatri was born on 24th June, 1964, in Jamshedpur, into a family where music and dance were a way of life. She spent her youth in Rajasthan and grew to love the land, its vibrant colours and its rich culture of folk dances. She later came to Mumbai, where she was brought up by her foster parents,
Guru Shri G.V. Ramani
and
Smt. Ranganayaki,
Periappa and Periamma as she called them, both pioneers in the field of dance.
They initiated her into Bharatanatyam and thus began a beautiful, enriching journey, a continuous process of learning for Gayatri. Her Gurus helped her grow and establish herself as a teacher. Married at 18, she received tremendous support from her husband and family. This was the backbone of her success as a dancer-guru. They helped and encouraged her to pursue the fine arts.
After her foster parents migrated to Bangalore, she associated with their seniormost disciple,
Jayashree Nair,
Director, Upasana Dance Institute and learnt from her. She also learnt from stalwarts like late
Guru Shri Mahalingam Pillai, Smt. Kalanidhi Narayanan,
late
Shri Ramaswamy Bhagavatar.
Currently, she is doing advanced studies in Bharatanatyam and Nattuvangam from
Guru Smt. Rajee Narayan
- click here for website
Gayatri was initiated into Carnatic music by her maternal grand-aunt,
Smt. Muthulakshmi.
She later learnt from
Smt. Saraswathi Subramanian,
Mumbai.
In 1988, Gayatri's association with Navi Mumbai Tamil Sangham, Vashi began and she started teaching there. Her focus has always been on teaching and her popularity as a teacher grew rapidly. In 1990,
Takshashila Dance Academy
was born. Gayatri has participated in various group shows, dance conferences and temple festivals.
Gayatri conducts dance classes in
Yoga Niketan - Vashi, Sadhu Vaswani International School - Sanpada
and
Narayana Mandir Samiti - Nerul.
Gayatri's group presentations and dance dramas are a beautiful blend of tradition and variety in choreography. Her students have imbibed from her a rich repertoire of the Bharatanatyam margam. Some of her popular dance productions are
Krishna Leela, Kutrala Kuravanji
and
Andal Kalyanam.
Performed at the Bayer Annual Conference at the age of 16
Received the title of Kalaimamani conferred by the Navi Mumbai Tamil Sangam
Received the title of Shivali Nritya Shiromani from Smt. Kanak Rele, Director, Nalanda Mahavidyalaya, conferred by the Shivali Cultural Society of India
Recognized as one of the Top 10 Women Achievers for her contribution to the Fine Arts, by Rayat Shikshan Sanstha.
Participated in Andal, a dance drama, at the Kalanagar Festival
Participated in Navi Mumbai Music and Drama Festivals
Performed for Kalaniketan, Navi Mumbai alongwith renowned dancer Smt. Sudha Bharat
Performed for Navi Mumbai Tamil Sangam
Participated in Dashavataram, a dance drama, in Kerala, with Guru Smt. Jayashree Nair's troupe.
Participated in many workshops under various well-known gurus