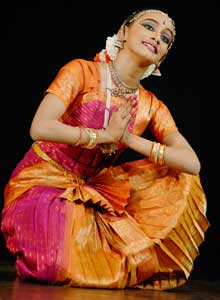 Snigdha Menon
Congratulations
on your selection as B-grade artiste of Mumbai Doordarshan
When I started to learn dance at the age of 3, I did not know that I would be associated with this art through all my growing years. Besides my parents, I owe my guru Smt. Gayatri Subramanian for whatever I have learnt and achieved in Bharatanatyam. She has not only taught me to dance, but has also taught me how to live. More than a teacher, she has been a mother to me.
I still remember the first day when I met my guru near her home. The thought that first came to my mind was that she looked so like my mother ! Instantly, I felt a bonding with her. It was my mother's dream to make her daughter a renowned dancer and she knew that Gayatri miss could frame me into one. The best part in her is the way she pampers us like no other teacher ! I still remember the stories she tells in the class that encourages me to achieve my dream and be focused in life.
During my early days in the dance class, I used to see all the seniors practice dance and wondered if this would be a simple task in hand. But as the days passed, my Arangetram drew near and it dawned on me that this is no child's play ! In the month of April, 2010, three Arangetrams were scheduled. This meant loads of practice and fun ! All of us would have a gala time, as every day, we would have delicious food brought over from different homes. We all felt that the dance academy was our home ! At last, the most awaited day arrived, 18th April, 2010. My relatives had arrived from Kerala, Jamshedpur and Chennai. It was a heavenly experience, with all my loved ones around me. I could see how proud my parents and my guru were on that day.
Some of my performances are listed below:
Krishna Leela, by Takshashila Dance Academy for ISKCON, Janamashtami Utsav - 2009

Kala Avishkaar, 4th Classical Dance Children's Festival, 2010, conducted by Bharata College of Arts Culture at Ravindra Natya Mandir, Mumbai - 7th February, 2010

50th Year Celebration of the Maharashtra State by the Government of Maharashtra - Saptarang 2010 - 27th January, 2010

Udagaman 2010, Young Dancers Festival by The International Academy of Mohiniattam & Odissi - The Indian Habitat Centre, New Delhi, 23rd June,2010

Shivali Festival - 13th November 2010

Kutrala Kurvanji at the IMA Hall - Nagpur, 17th November

Bharatanatyam recital at Ayyappa Temple, Vashi, during the Mandala Mahotsavam - 1st January 2011

Navarasa along with Smt. Gayatri Subramanian - 16th January, 2011

Performed for Prathisthadinam - 18th January, 2011

Participated in group recital at Dombivili Fine Arts - 26th January, 2011

Participated in group recital at IWSA - 29th January, 2011


I have attended Workshop on Synergy of Classical Dance & Music – Emerging Trends in Laya & Abhinaya Attended Workshop on Natya Shastra by Guru Smt. Rajee Narayan Pursuing Diploma in Bharatanatyam from The Sarfojiraje Bhosle Bharatanatyam Research Centre, through Kalaparichaya of Bharata College of Arts & Culture I thank my Guru, Gayatriji, for always supporting, encouraging and teaching me this divine art.