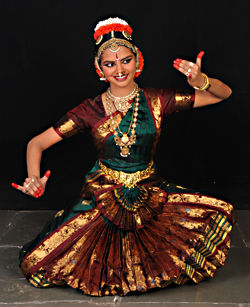 Shyama Balachandran
Congratulations
on your selection as B-grade artiste of Mumbai Doordarshan
International Dance Day
DNA Navi Mumbai - 29-04-2014
- click here for press cutting
Tuesday, 17 December, 2013
Shyama
wins 2nd prize at
Nrityangan 2013
- click here
Sunday, 5 May, 2013
Shyama
participates in EUMIND Cultural Exchange Programme from St. Xaviers College, Mumbai
Venue: Lambertus School, Westerloo, Antwerp
"Dance is an obsession, an addiction (a good addiction of course). If you once get into it, it's very difficult to leave it."… As a toddler I was always told by my mother that dance for me should be an offering to the Almighty, and following those words she had told then, I have come so close to this beautiful, divine art form.
God could not attend to me personally and therefore he sent few angels in my life, my mother, father and my guru. They make me what I am; they make every dream, every thought a reality for me and make my life splendid in every way.
Takshashila should not just be termed as an academy, it's a family, a family where giving, caring and loving are the amongst some values preached. My guru Smt. Gayatri Subrmanianian is our mother, our "janani".
All the students of the academy refer to her as a friend, philosopher and guide. During the course of my arangetram, as our bond intensified she actually played the role of a friend, philosopher and a guide in my life too. The practice sessions for my arangetram are truly unforgettable. All the items I had performed were completely new to me but my guru and I used to work continuously making everyday and she made every moment of this period enjoyable and memorable for me.
Gayatri miss says that if you experience a bond, a very special bond between yourself and the almighty; consider it as the greatest attained bliss. At that moment you are not what you are, but you are in a different world, a different sense all together. On my arangetram I experienced that bliss…and that was the best moment of my life.
Dance class is all about "living the moment alive". The playful, innocent jokes, the vigorous practices for programs followed by lavish lunch or dinners, or the serious lectures our guru gave have all been an inevitable part of our class adding color to every tiring day. I would like to extend my heart felt thanks not only to my parents for having been so supportive in this journey, but also to all the aunties and uncles in class who have showered their love on me, unconditionally.
Gayatri miss has instigated in me a hunger to learn, an urge to become perfect and a passion to live for. Engraving her picture in my mind and under her guidance I look onto the day I excel as an able performer, the day we could see our dreams become reality.....