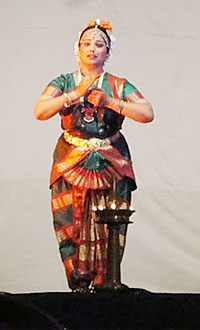 Shrishti Iyer
I have been associated with Guru Smt. Gayatri Subramanian, since the age of 7 when my parents left me in her care to learn dance, groom myself as a performer, but mainly so that I could imbibe her qualities, and one day bloom into an artiste, just like her.
As I reminisce ,my entire childhood was spent idolising her, a trait still inherent. As my child eyes observed her in the class, all I wanted to grow up to be was her replica. The way she walked, her style of teaching, her patience with the students, her persona left me awestruck.
As I stepped into adolescence , my guru welcomed my hero worship but gradually taught me that I was my own person and lovingly nourished the essence of what I am.Each performance saw her painstakingly try and unravel that essence. This she assured me would help me grow into my own person.
During the one year that I was In London, pursuing my academics, my relationship with my Guru acquired a new intensity, where I would think of her in all the art I was exposed to, be it Bharatanatyam, Indian temple art, music or percussion.
On my return, she helped me discover a new dimension to my performance,namely vocal support for Bharatanatyam.
As we embarked upon the Master's in Fine Arts programme together, it marked the beginning of another beautiful journey, a journey where my Guru taught me whole different lessons of how to conduct myself ,both as a dancer and as a person.
As we continue our journey together, All I can do is bow to the Sivasva within me which has brought my Guru into my life. Everything I know as a dance is thanks to her, almost everything I know as a person is thanks to her.
If I were to create an imagery for what I feel for my Guru, The Varnam Pillai Pirayatile would be apt, where the poet Subramanya Bharati, glances upon the Goddess and is mesmerised. That is what I feel every time I am in my Guru's presence.
Summary of Qualifications
Over 10 years of experience as a professional Bharatnatyam Dancer,under Guru Smt.Gayatri Subramanaian,performed at several festivals, such as Natyanjali, Mumbai, Shivaratri Festival, Uttara Chidambaram, Satara

Currently learning Sanskrit, and Mridangam under Shri P.R Chandran

Consultant, Art History

Education
Master of Fine Arts, Bharat Natyam

Present Bharatha College of Fine Arts and Culture Mumbai, India


Master of Arts, History of Art and Archaeology

September 2009
School of Oriental and African Studies (SOAS)
University of London, United Kingdom


Thes is on 'Dance forms as reflected in the Architecture of the Darasuram temple' It is a study of the sculpture at Darasuram and its co relation to performing arts.




Bachelor of Arts, Ancient Indian Culture

May 2008 St. Xavier's
College University of Mumbai, India

Professional Experience
Art History Lecture-demonstrations
Seeking the Eternal within the Transient- an interplay between Indian Philosophy and Dance', Heras Institute of Indian History and Culture, Mumbai, January 2011

Twin journey of Sculpture and Dance', for the Indian Art Appreciation, conducted by Cama Oriental Institute and L.S. Raheja College, Mumbai, December 2010

Bhramanical Cave and Temple Architecture' for the Indian Art Appreciation lecture series conducted by the Heras Institute of Indian History and Culture', Mumbai, August 2010

Dance as reflected in Art and Architecture'- a four lecture series, Heras Institute, Mumbai, January 2010

Series of 4 lecture demonstrations on dance in the Indian traditional context, for children in the age group of 8-12 years, Independent Bonn International School, Bonn, Germany, February 200
Research
Research Associate and Guide, Heras Research Programme, July-August, 2006-2010

Presented a paper 'The Samkhyan idea of Purusa and Prakrti as seen reflected in the Uma –Mahesvara Alingana murti', Indian Philosophical Congress,Guwahati, October,2010.

'Presented a paper 'The Samkhyan idea of Purusa and Prakrti as seen reflected in the Uma –Mahesvara Alingana murti', Indian Philosophical Congress, Guwahati, October,2010.

Museum guide for the Heras museum during their annual museum week, 2006-2008

Awarded Best paper on 'Tandava Srsti- an iconographic study of Nataraja, Heras Research Programme, 2005
Bharatanatyam Dance Performances
Bharatanatyam Arangetram(debut), December2001

Performed at the Shivaratri festival,Uttara Chidambaram temple, Satara, February 2011

Essayed the role of Raavana in the Symposium on 'Ethics,Science and Technology as reflected in the Ramayana Literature 'Indian Women's Scientists Association (IWSA), Mumbai, January 2011

Vocalist for the Kalavishkar Children's Dance festival, Sangeet Natak Akademi, Mumbai, 2010

Participated in Saptarang, Mumbai Festival, 2010

Performer at the Natyanjali festival,organized by Shanmukhapriya, Cheddanagar temple, Mumbai, 2006, 2009

Participated and Performed, Summer school programme headed by Padmashri Guru Smt. Geeta Chandran, London, August 2009

Was under the tutelage of Smt. Shobana Balachander, London, October 2008 - May 2009

Elementary Teacher, Bharatanatyam,School of Oriental and African Studies(SOAS) , University of London , September 2008 - March 2009

Performed for a charity school of drama and dance, Playhouse Theatre, London, July 2009

Performed Bharatanatyam,Indian Association, Bonn, Germany,2008
Carnatic Vocal Music
Carnatic vocal debut, September 2009, Mumbai

Resource person and vocalist to document and record compositions of 18th century Carnatic music composers, June 2010 - present

Vocalist for recording of the Trimbakeshwara Suprabhatam, Trimbakeshwar Temple, Nashik, India, January – September 2010

Performed, 'NAVARATRI' festival, Sharadambal Temple, Mumbai, 2010

Performed, Annamacarya festivities, Mumbai, 2010
Publications
Review of 'The Three Jewels' by Sangharakshita, published in the Indica-the bi-annual journal of the Heras Institute of Indian History and Culture, Vol 44, No.2

Review of Chithra Madhavan , History and Culture of Tamil Nadu – as gleaned from the Sanskrit inscriptions, Vol. 2 {c.1310-c. 1885 A.D}, New Delhi, D.K. Printworld, 2007, in the Indica Vol. 45 No. 2 – Journal of the Heras Institute