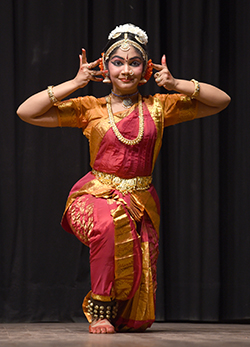 Sanjana Krishnakumar
I have been learning Bharatanatyam from the age of three, from different gurus across India, because thanks to my father's job, we had to relocate often. When I embarked on this journey with Takshashila Dance Academy and my guru in 2012, I never knew that it would shape me into the person that I have now become. My guru's tutelage has been an absolutely enriching experience for me.
Learning at Takshashila Dance Academy is not limited to just dance classes; our Guru takes us to several dance performances - not only Bharatanatyam, but also other dance forms and arranges enriching workshops for us. This holistic experience is peppered with lessons on history and culture and so many values and principles I will cherish throughout my life. Our guru encourages us to aim high and drives us hard to achieve these dreams. On the other hand, a class at Takshashila is never without its share of fun. Getting soaking wet in rain, laughing and chatting over tea and samosas… after each class, I come home with a story to tell !
Takshashila Dance Academy is not just an institution. It is one big family consisting of my guru, my seniors, my fellow students and even their parents. My Arangetram in July 2016, a major milestone in this journey, would not have been possible without the untiring efforts of each one of them. These years at the Academy have also made a positive influence on my personality. My friends and family now find me friendlier and say that I walk and talk with grace ! I have realized the importance of teamwork, time management and hard work. More importantly, I have developed an attitude of never giving up, picking myself up after a mistake and turning it into success. Thank you, Takshashila family !
Sanjana performed her Arangetram on 10th July, 2016. She has performed during Margazhi Festivals in Navi Mumbai and Navaratri festivals in Vashi, Guruvayurappan Temple and the Chembur Fine Arts Society. She is a student of Class 12, in Dhirubhai Ambani International School.