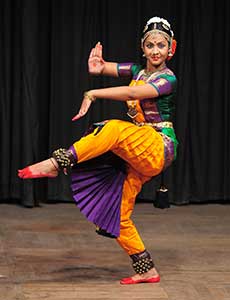 Sakshi Pujari
Press Cuttings
18-yr-old Vashi girl to perform at Chakradhar festival
- click here
Chakradhar Samaroh-1
- click here
Chakradhar Samaroh-2
- click here
Chakradhar Samaroh-3
- click here
Chakradhar Samaroh-4
- click here
Chakradhar Samaroh-5
- click here
Raigad cutting
- click here
As I glance back through the years, I very clearly remember that day. Clutching my mother's fingers I had started a new journey in life. Little scared, a bit excited and thoroughly clueless - were the mixed feelings that I had. But even as a toddler I knew it was going to be exciting. 15th October, Dassera of 2002, was the day when I first met my Guru, my Teacher. That day, I learnt my Bhoomi Namaskar and a few exercises. That was the day when I first did anything related to Bharatanatyam.
As time passed, like a young learner, I enjoyed every bit of it. I used to directly go to class after school. One thing I must acknowledge is my mother's patience which is required in learning Bharatanatyam. I also thank her for her efforts to maintain the enthusiasm within me to learn the dance form.
In 2006, I had my first stage performance. It was not a Bharatanatyam performance but was very interesting, choreographed by Lavanyadidi. After that we continued with our normal classes. In that year and the next one, there were many Arangetrams in our class. That was the time I had first heard about Arangetram. Even then I had no clear idea about it. I used to see my seniors rigorously practising for hours and hours together. Then, I knew it was not easy. My interest in this dance form grew as time passed. In 2007, was my first ever Bharatanatyam performance. After that, I participated in many events like Guru Rajee Narayan's workshop in 2009, celebrating Janmashtami at ISKCON Temple, 2009, dancing at the Guruvayurappan Temple, 2010, Saptarang Mumbai Festival, 2010 and Kala Avishkar Children,s Festival, 2010.
Meanwhile, my Arangetram practice began in November, 2009. I used to practise for about 3-4 hours a day. In the beginning Lavanyadidi used to take our practice. Honestly we used to be very scared of her. But her one week of practice really made a lot of difference. And I would sincerely like to thank her for that!! The next few months included a lot of hard work from our side, as well as the efforts put in by my Guru.
Dear Guruji, thank you for making me a part of the huge Takshashila family ! You were a pillar of strength in those tough days and also always encouraging me and having lot of faith in me. Thank you for teaching me important lessons in life. Those days were not very easy, but they were the most memorable. My Arangetram on10th April, 2010, was the most exciting day in my life. The day for which I had put in hard work, effort, blood, sweat sweat... And I knew I had to give my best. Not for anybody but myself. The whole program was enjoyed by all, especially by me ! It was a fruitful day. I was blessed to have all my relatives beside me to support me. Lastly I would like to thank the three most important people in my life - my father, my mother and my Guru, for making my Arangetram so special for me.