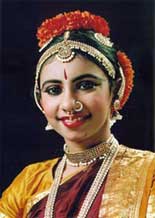 Poorvaja Prakash
There is only one difference between Dream and Aim. Dream requires effortless sleeps whereas Aim requires sleepless efforts.
This attitude towards life has enabled our Guru Smt. Gayatri Subramanian, the founder of Takshashila Dance Academy get the academy to the levels it has reached today. It takes a lot of effort, time, mind, soul, thought, energy, patience, passion, love, money and much more to make the impossible possible.
I, Poorvaja Prakash, a small part of this academy, am blessed to experience the affection and the teachings of an individual who is extremely special and important in my life. She is a person with great thoughts. She is the one who makes my life more meaningful. My thinking, my way of approaching things, my attitude towards life and much more, has developed to a great extent. She is the one who has made me dance to the tunes of nature and helped me feel more close to the Almighty.
It was Dassera eve, October 1997, when I entered this academy. I was a young girl who was unaware of the practical use of the terms grace, elegance in real life. My guru helped to get the emotional and tender part of me out and express the same. From that day, the journey of becoming the Bharatanatyam dancer that I am today started. The next 3 years of my learning helped me make my foundation strong. This wonderful period developed an interest in my parents and a desire in me to be on stage. The next goal was to make this dream a reality. The journey helped to build a strong relationship and bond between us. It was a very personal as well as a very professional relationship that we shared. We used to work day in and day out to accomplish our goals. Can never forget those vigorous practices, rehearsals, long chats, the well awaited samosa parties, the shouting, the silly jokes and the huge laughs, the different lessons of life that were taught, etc. Wow!! What else does one need in life!
How can one forget Saraswati Mami (on the vocal) and Chandran Mama (on the mridangam), the pillars of this academy? What we actually learn, from any given set of circumstances, determines whether we become increasingly powerless or more powerfulI take this opportunity to thank one and all for making me the individual that I am today. After those endless efforts of one and all, came the day when I gave my arangetram. It was 10th November, 2001. It will always be the best and most memorable day in my life.
To think is easy. To act is hard. But the hardest thing in the world is to act in accordance with your thinking. From there on my journey continued with many more learning lessons and performances. Takshashila Dance Academy is a family which is inclusive of lot of people, the Guru, the accompanying artists, the students and their parents and their hopes and ambitions. It has given me much more than I could have ever asked for.
Some of my performances are listed below:
Kutrala Koravanji Ballet - Chembur Fine Arts, 2002

Arangetram - 10th November, 2002

Shivali festival - 2002

Naadha Anjali Festival - 27th April, 2003

SIES college festival - September 2004

Borivili Ayyapa Temple - December 2004

Gujarat Samaj Annual Day Celebrations - May 2005

Ganesh Chaturti Festival - Tamil Sangam, August 20th, 2005

Shivali festival - 21st September, 2005

20th Takshashila Anniversary Celebration - July 2006

Borivili Ayyapa Temple - December 2006

Ramayanam Ballet - January 2007

Shivratri Festival - Narayana Guru Temple, Nerul, February 2007

Independence Day Celebrations - 15th August, 2008

Dakshin Bharatiya Seva Sanghs - 23rd August, 2008

Brahmotsavam Festival - Hanuman Temple SIES Nerul Complex
- 24th December 2008
After having completed my SSC from St Mary's High School and HSC from SIES College, Mumbai, I chose to pursue my academics in Interior Design which has been my dream and passion since childhood. My interest in drawing and detailing helped me to complete my Graduate Diploma in Interior Design from Rachana Sansad School of Interior Design, Mumbai. I then became a Member of the Indian Institute of Interior Designers and have actively participated in many Design Exhibitions representing my College. Now I am an Interior Design Graduate (Bachelor's Degree) from the prestigious Raffles Design Institute, Singapore having passed out in December 2010. Amongst my various design projects in my curriculum, the most cherished one is my Major Design Project: The Dance Therapy Centre.
After 2 years of being in Singapore, everything still remains the same here. All that has changed is the vision. There is this urge to learn more, the need to get recognized and the want to excel. The nattuvangam classes started and it helped me to understand the various nuances of the art. Dance, music and choreography set a new meaning. Every detail seemed important. The recent programme at the Uttara Chidambaram Temple at Satara on 24th February, 2011 gave me an opportunity to showcase my communication skills by compeering the event before the learned audience. It was bliss. It feels great to be back in the academy to learn more and grow more