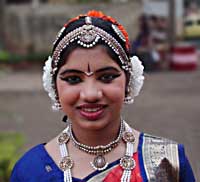 Nikita Shanker
I , Nikita Shankar ,a student of class VIII , Apeejay School, Nerul , started my Bharatanatyam dance ,a divine form of natya known for padham and bhavam at the tender age of 5. I performed my Arangetram on 12 April, 2009 , under the guidance of Guru. Smt. Mary Mac Mohan Paul. Until my arangetram, I never thought that dance would be a part of my life. During the practice for Arangetram have developed deep interest and wanted to pursue further advance training in bharatanatyam.
My parents realized this and introduced me to Guru Smt. Gayatri Subramanian, Takshashila Dance Academy Vashi in December 2009. On the first day, I felt little nervous, a bit excited and thoroughly clueless. When I first saw my Guru who affectionately talked to me, I wanted to become her student forever. I was indeed fortunate as, when I joined Takshashila many programmes were in line. Gayatri Miss knowing my potential give me an opportunity to perform in these programmes. The first one was at Vashi Tamil sangham just 3 weeks of joining. It was a great challenge to learn the Thillana which is a special item of Gayatri Miss. Yet another most memorable one was of Ramayana ballet performed at Kalaavishkar festival at Ravindra Natya Mandir, Prabhadevi. Though a very small role of a rakshasa, this introduced me to whole new horizon in the world of Takshashila's paramapara and started feeling part of the family. Over a period of two years, Gayatri Miss trained me to perform the role of Bharata, Jatayu and Manthra.
I am fortunate to find a guru like Gayatri Miss, who not only teaches Bharatnatyam, but also teaches and discuss all aspects of life more as a friend. This results in improving my self confidence, thereby helping me to face challenges ahead. During these period ,I became very close to my Guru and understood that she is God's gift for me and best things happened in my life till date. She and my parents made every dream, every thought of mine a reality and have made my life wonderful. The bond between me and my Guru blossomed and become very strong filled with love, care and understanding.
I am currently learning Carnatic music under Guru Smt Saroja Hariharan. My first lesson in Carnatic music under the aegis of Guru Shri Thiruvalla Gopalakrishnan at the age of 4. I am a qualified Black belt in Taekwando at the age of 10. My other interests includes reading comics, watching TV.
For me Takshashila is like a family. The best part in it is to live the moment. The best part of the dance class is the cake cutting and vada paav parties. I am indeed thankful to all my Didi's in my dance class who painstakingly have been teaching me and helping me to improvise my adavus so that I can perform to their level.
Details of my performances are listed below:
Arangetram at Vishnudas Bhave Auditorium

- Vashi on 12th April 2009


Tamil Sangham, Vashi

- January 2010


Saptarang festival

- January 2010


Prathishta Mahotsav at guruvayurappan temple Vashi




Kala Avishkar

- February 2010


Ayyapa Mandala Puja,

Vashi


Dombivli finearts




Indian Women Scientists' Association (IWSA)




Annual Day of Microtechnologies




Special Summer Course in Bharatanatyam Maharaja Swati Tirunal's Dasavatharam by Guru Rajee Narayan




Guruvayurappan Temple in the presence of the Governer of Maharashtra




ISCON temple,

Kharghar


Kanha megha utsav,

Parsik hill


Guruvayurappan temple
I am now doing my diploma in finearts under the Sarfojiraje bhosale centre's Bharata College of fine arts and culture , Mumbai.