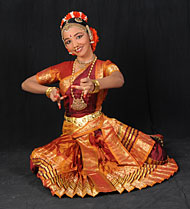 Meghna Prakash
As I glance back through the years, musing over what started my infatuation for dancing, my mind drifts to the day I first joined the academy. I was five, when I embarked this journey. I knew nothing about dance, let alone Bharatnatyam, neither did I realise how it would alter me.
I remember those moments when it was all fun and play, when the only thing that mattered was that my Guru Smt. Gayatri Subramanium should quench her thirst with only "my" bottle ! I rememeber those hours in the dance class, when we would await those moments of storytelling, of hearing mythology, eagerly anticipating the oppurtunity to perform it.
I was first casted as Krishna, mischeviously troubling all the women in town. Then as a leaping Marich (deer) resulting in the abduction of Sita. Those experiences of fun and laughter, the hardwork and effort put in, right since I was a child, helped discpline my mind and body, taking me a long way since.
I have taken part in several stage performance since, the most memorable being my Arangetram; my first solo performance; in October 24th 2010. I would never forget the months of practising, my jittery nerves during the orchestra rehersals, and finally my confidence on the day of the performance. These instances made me a different person. It lifted my drooping self-esteem, gave me a goal in life, intensified my passion for this dance form. Bharatnatyam made me who I am now.
For a dancer, A guru is one of the most important elements in her life. She shapes the dancer, moulding her, encouraging her to dance her way through life !! My Guru Smt. Gayatri Subramanium has been a strong pillar for me, strenthening me when I'm weak, correcting my every mistake, gladly accepting me for being "me". She sensed our every mood, cheering us up when we are low, celebrating our personal victories, erasing our every grief. I immensely enjoyed those experiences; dancing in the rain on the terrace,hogging several samosas, vadopavs, cakes, after another extensive dance practice, the silly jokes cracked, the serious chats, correcting each other; everything remains a cherished memory.
For me, Takshashila Dance Academy, is my family. A family united by love. Love for each other, love for this dance form, and for me, a forever cherished memory.