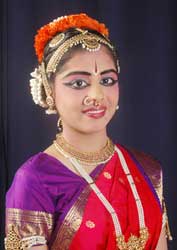 Kruttika Raman
July 2011
Kruttika Raman
has topped in the second year of Pre-Degree Diploma in Dance -Bharatanatyam by securing first division marks in the academic year 2010-2011. She appeared as a non-regular student from Shri Sarfojiraje Bhosale Centre's Bharata College of Fine Arts & Culture, Mumbai, which is affiliated to Kavikulaguru Kalidasa Sanskrit University, Ramtek, Nagpur.
At the age of 7, Kruttika joined Takshashila Dance Academy. Even as a young girl, she enjoyed dancing. After the basics, her Guru started teaching her different items and soon, she participated in her first group public performance for a cultural festival. After this, she participated in Ramayana dance drama for Shivratri Festival. Seeing her potential to excel, her guru started training her for Arangetram. The preparation for Arangetram was completely different from regular classes; she would practice everyday after school for almost three hours.
On 19th August, 2007, Kruttika performed her Arangetram. She enjoyed the experience of dancing alone on stage and became more inclined towards stage performances. Some of her performances are listed below
Ganesh Chaturthi Festival

- 19 September, 2007


Navratri Festival at Navi Mumbai Tamil Sangam

- 12 October, 2007


Ayyappa Mandalam in Borivili

- 28 December, 2007


Chowpathy Festival at Mini Seashore, Vashi

- 29 December, 2007


Temple at Vartak Nagar, Thane

- 14 January, 2008


Navi Mumbai Tamil Sangam, Vashi

- 27 January, 2008


Shivratri Festival, Uttara Chidambaram Temple, Satara

- 15 March, 2008


Tamil New Year, Vishnudas Bhave Auditorium, Vashi

- 27April, 2008


OFIL for their Annual Function, Ambernath

- 6 May, 2008

Kruttika is a student of class 10 studying in Apeejay School, Nerul. Apart from academics, she has participated in many curricular and co-curricular activities and won many prizes. She has also been member of the school Prefectorial Board, member of the Interact Club and minister in the school Youth Parliament. Her hobbies are dancing, drawing, singing, philately, reading and creative activities.
Kruttika says, "My journey of Dance has been for 7 years until now. In these years of association with my Guru and academy, I have not only learnt dance, but many other things. My Guru has helped me imbibe moral values and taught me the importance of our tradition and culture. She taught me how to face the world, overcome difficult circumstances, manage time, carry out things in a relaxed manner, organise my life, live in a family, have a positive approach and enjoy the different colours of life. The good times in dance class include Rain Dances, Birthday and New Year parties, Vada-Pav parties and dancing in the moonlight, when there is no electricity ! My entire personality changed after joining the dance class and while preparing for my Arangetram. Dance has always been a stress buster for me and has helped me increase concentration levels. I can never forget what my Guru has given me through this Academy. This is a really great journey that I have embarked on.