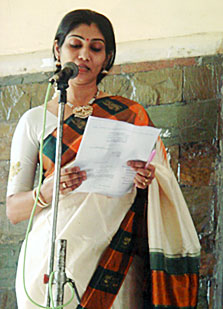 Jayshree Subramanyam
Though proficient in dance and music, Jayshree's qualities lay dormant in her, for about 15 years after marriage. She gives her guru, Gayatri, sole credit for reviving and rekindling a passion for the fine arts. A lecturer at P. N. Doshi Women's Junior College, affiliated to SNDT University, Jayshree has done her Masters in Human Development, B.Ed, with a Diploma in Learning Disabilities. She is a trained Life Skills Facilitator.
Jayshree's search for a good Bharatanatyam teacher for her daughter Jahnavi led her to Takshashila. Right from the first day, she found herself enfolded in the warmth of the Takshashila family. She finds Gayatri an extremely open, warm, fun-loving, caring, humble and a beautiful and charming human being. Jayshree says about her guru, "She is so full of love; one can truly bask in it and become healthier, as I have. I have been truly blessed; God has been kind to me to have always given me the best of teachers and friends. She has proved to be both, a teacher, and friend. She has the endearing quality of becoming part of her student's family."
Jayshree is a student of Carnatic Music, initiated and encouraged by Gayatri. She has had the opportunity to interact with great masters in the field of dance and music. Like Julie Andrews in The Sound of Music, she thinks 'she must have done something good', to have found Gayatri.