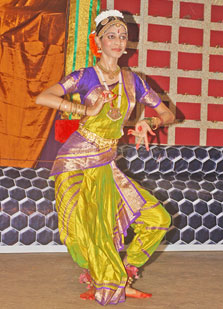 Jahnavi Subramanyam
Jahnavi Subramanyam is a Std. 11 Science student of SIES College. She joined Takshashila in 2003 and what started as a hobby became a passion, ever since she met her Guru, Gayatri. She gave her debut performance at the feet of Lord Ayyappa in 2005. She is grateful to her guru, for the faith and confidence she had placed in her, when she was still unsure of herself and lacked courage to face an audience.
Jahnavi says, "I remember how jittery I would be before every performance. I was always a bundle of nerves. She would tell us to be confident and enjoy the program. Our dance class is different because we learn not only the art form, but also moral values. This helps in overall development and improves our personality. Our guru ensures that every year we give a performance at 'Sharan', an old-age home in New Bombay. This inculcates in us the need to serve society and respect our elders. We are enabled to bond with a generation that is so neglected these days. The qualities of team spirit, constructive criticism and loads of fun are the core component of Takshashila Dance Academy."
Jahnavi has keen interest in all types of music. Her hobbies include reading, swimming, socializing and most importantly, eating ! She also enjoys western dances, for which she has represented her school, in an international dance competition, in 2006.
Jahnavi has performed at the Ayyappa temple, Borivali, in 2005, 2006 and 2007. She has performed at Fine Arts Society, Chembur, in 2007. She participated at the Chowpati Festival in 2007. In the same year, she participated in Ramayanam, a dance dram and Narayana Guru. She was part of the dance drama, Kutrala Kuravanji in 2008. This year, she traveled to Guruvayur, where she gave a dance recital with other dancers from Takshashila. She also danced at ISKCON, Kharghar, for Gokulashtami.
Jahnavi regards her guru as guide, friend and mother and a great source of motivation and encouragement. She has a very special place for her guru, in her heart and life.