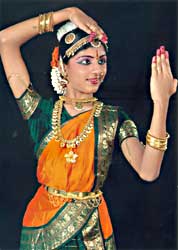 Chandni Chandramouli
It was a small step that made a big difference in my life. In August 1998, on Vijayadasami, I joined Takshashila Dance Academy. For the tenderfeet that set foot in the pristine walls of this renowned academy, life was but a lark, and every outing was an occasion to rejoice. Slowly, seriousness set in, the passion intensified and learning became the prime focus.
All this was due to the untiring efforts of my guru, Smt. Gayatri Subramanian. Her warmth and patience were a constant source of encouragement for me. Her enthusiasm awed me and inspired me to pursue the art form with the same zest. She skilfully guided me to the eventful milestone called Arangetram. I consider myself fortunate to be under the tutelage of a such a Guru, who has taught me vital lessons in life through Bharatanatyam.
Every day in dance class is an uplifting and enjoyable experience. Be it the drilling Varnam and Jathiswaram sessions or our customary dance in the first showers, Annual Day celebrations on Dassera , the night practices on the terrace before Ramayana dance drama, the stage rehearsals for Kutraala Kuravanji and of course, the scrumptious dinners that followed! I shall always cherish these wonderful memories of the Takshashila family, where we are all united by unconditional love.
May Lord Nataraja always shower his blessings on our Takshashila family, where I have learnt all I know about giving and receiving, sharing and caring.