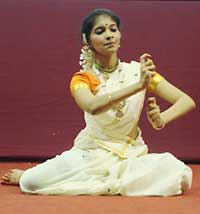 Ayushi Sharma
July 2011
Ayushi Sharma
has cleared her Pre-Degree Diploma in Dance - Bharatanatyam by securing first division marks in the academic year 2010-2011. She appeared as a non-regular student from Shri Sarfojiraje Bhosale Centre's Bharata College of Fine Arts & Culture, Mumbai, which is affiliated to Kavikulaguru Kalidasa Sanskrit University, Ramtek, Nagpur.
Mother, Father and Guru are three people who are worth saluting. We get life, knowledge and strength from their blessings. I am proud to be part of the Takshashila family. Casting a glance on me, then an innocent little girl, at the Vishnudas Bhave Auditorium during a function, my guru, Smt. Gayatri Subramaniam thought I would be the right one to learn dance from her. As my father always wished to see me learn a classical dance form, I joined her dance classes when I was 5 years old.
Since then I have learnt not only dance, but also important values and principles. "Life is Beauty, admire it." This is the most important thing that I have learnt from my guru. We both share a very close bond with each other. She is like a mother to me, in fact, she is mother to all the children in the dance class. She has nurtured each one of us by giving us the best of her knowledge. She is a lady who is completely different from the rest of the world and she is always right ! To me she is the most gorgeous woman on earth !
My Arangetram was in December 2005. From the previous year itself, both of us were together, working hard day and night, to make this special day of my life, a successful one. So my Arangetram was truly unforgettable. I feel happy, safe and comfortable in the presence of my Guru. A kind word from her helps me sail through difficult obstacles in life. God the Creator has blessed each one of us with someone special and His gift to me is my Guru.