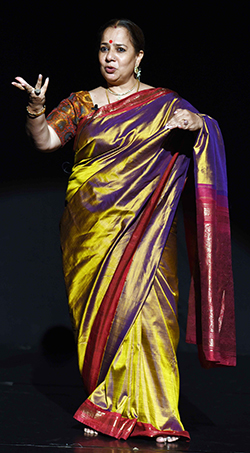 Gayatri Subramanian, Founder-Director of Takshashila Dance Academy, is a Bharatanatyam dancer and teacher, in Vashi, Navi Mumbai. After securing Gold Medal in BFA, she completed her MFA in Bharatanatyam in second position, with first division marks in 2010-2011, from Shri Sarfojiraje Bhosale Centre's Bharata College of Fine Arts & Culture, Mumbai.
Kum. Snigdha Menon
to be awarded
Guru Muthuswamy Pillai Endowment Prize
by Sri Krishna Gana Sabha Trust,
at a ceremony on
13th December, 2018.
Saturday, 22nd December
10 am onwards
Bharatanatyam by
Shri Bhavajan Kumar
followed by disciples of
Smt. Gayatri Subramanian
Sunday, 23rd December
5 pm onwards
Kathak by
Sanjukta Wagh
Odissi by
Padmashri Ranjana Gauhar
grand finale by
Padmabhushan C. V. Chandrashekhar & troupe